Vendor Partners
International Tool & Equipment Group (ITEG) members supply over 200 different national brands of tools and equipment to Automotive and Industrial service professionals. Interested in being an approved vendor?
Contact us today to find out how!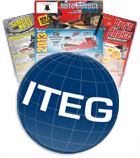 Member Publications
Strength is certainly found in numbers. ITEG members print and distribute over 1 million tool & equipment fliers quarterly throughout North America. ITEG member publications support over 200 different national brands. Contact us for more information about participating in ITEG advertising programs.
Request more information
ITEG Members Supply 200+ National Brands